Online Arts & Crafts Classes Available At Your Convenience at Craftsy
Have you ever heard of Craftsy.com  I stumbled upon it one day looking for knitting patterns just for fun.  Since then I've been listing my free and sale knitting patterns at craftsy for no cost.  If you are a knitter or a crocheter like me having great pattern that what to share with folks or just want to get it listed for sale, you can head right to crafty and get started at no cost.
Craftsy offer free and charged art and craft classes.  You can become a member for free.  The best thing I like about it is the beautiful yarns at good sale prices.
At craftsy students can watch and learn to master art and craft skills at their convenience schedule.  There are so many interesting classes offer. Here are just some example;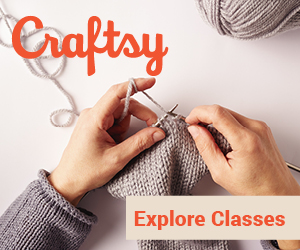 Cake decoration

Crochet

Knitting

Spinning

Cooking

Gardening

Weaving

Woodworking

Wedding

Paper arts

Sewing

And many more...