Knitting Machines - What is the best knitting machine to buy?

I've been looking around for a home machine, but so far I haven't come to the conclusion yet.  The more I look around, the more confused I get.  The best advice I can give you right now is to take your time and do your research. Pick a few machines that fit your priority.  Then compare them one by one.  Check to make sure if the machine you're going to buy will have part available in the future or will it discontinue in a short time.  You may want to check out second hand machines as well.  
What types of Knitting Machines are best for home use?

To answer the above question you have to ask yourself these;
1. Why do you need knitting machine?
2. What gauge machine are you looking for?
3. How much are you willing to pay for it?
There are many types of knitting machines you can choose from these days. The most familiar ones are Artisan, Silver Reed, Passap, Singer, Brother and Bond Knitting Machines. Their prices are ranking from under 20 dollars to up to thousand of dollars.
There are manual machines and automatic machines available.
Here are some example of knitting machines with descriptions and prices:
CARON-The Ultimate Knitting Machine. Imagine knitting 1200 stitches a minute! With this machine you can! It is so fast you can make an adult sweater or afghan in two evenings or a child's sweater in one evening. It accepts yarns from sport to chunky. Best of all; no knitting experience is needed. This machine is compatible with hand knitting patterns as well as ultimate knitting books. Machine is capable of making cables; lace; picture knits; tuck stitch; Fair Isle and many other fancy stitches. Machine has six key-plate to match every size knitting needle from 6 to 10-1/2. Make an afghan or sweater up to 100 stitches across or you can add in some extension kits or add another Ultimate Knitting Machine for an even longer reach. A detailed instructional video is included with every machine on all basic stitches and fancy stitches. Packed in a convenient colorful carry box and weighs only 10 lb. A limited manufacturers warranty is included. Made in USA.
Price : $120 and up.  
$111 and up at Amazon.com Caron The Ultimate Sweater Machine
American Bond Fashion Knitter, 50 Needle Bed x 8mm Spacing with INTARSIA Keyplate, Starter Yarn, Instruction Pattern Book, Quick Start Guide

Designed for the beginning machine knitter who wants to do intarsia/picture knitting techniques and designs without loops (yarn overs) on the back side of the knitting..American Bond Fashion Knitter, 50 Needle Bed x 8mm Spacing with INTARSIA Keyplate,Starter Yarn, Instruction Pattern Book, Quick Start Guide
Price: $129 and up.



The SK155 takes a step in the right direction by providing a 12 stitch punch card machine that will knit those heavy yarns with ease. This machine handles worsted weight yarns and makes short work of creating beautiful chunky winter wear. Ideal for heavy weight yarns in the bulky range. Stay warm all winter with the afghans you create to match your décor. Its time to start wearing your garments instead of carrying the parts with you for months hoping to someday finish it. Punch Card Patterns Bulky Yarn Knitting Machine. 9mm Gauge between 110 needles. 12 Needle Punchcard Pattern Repeat all the way across the bed. 110 Needle Metal Singer Bed. Includes 5 Punch Card Patterns. Optional Hand Punch and Blank Cards Available Yarn tension mast for two colors. Made In Japan. Knitting Machine. No Ribber Available except used SR155,Toyota KR650 and Elna ER2350.
Price: $995 and up at www.allbrands.com

____________________________________________________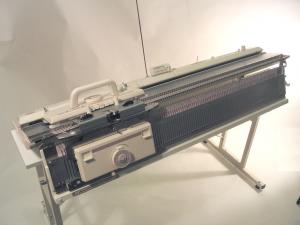 Uses 24 stitch punch cards (a set of basic pattern cards is included or you can purchase blank cards and a punch to make your own). Designed for Worsted and Chunky weight yarn. Virtually identical to the Brother KH-260 & Creative 3000rn. All Brother KH260 bulky accessories fit this machine. Package includes ribber bed. Just like hand-knit only better and faster using worsted and bulky yarn. Punch Card knitting patterns include Thread Lace, Tuck, Slip, Weaving, Fairisle and Single Motif Isolation. Pattern cards included or make your own with optional puncher and blank cards. 9mm needle pitch Ribbing Attachment. 9mm pitch, 110 needles. For rib knitting and double bed fairisle patterns. Includes D slider for drop-stitch designs. Drops down when not in use or can be detached.
Price: $1795 and up at www.allbrands.com



I enjoy knitting on the machine but I prefer knitting by hand even more. I use my sewing machine more often than I do with knitting machine.  I can't move around or take the knitting machine with me the way I take my knitting needle. The Bond USM is not an automatic machine and it needs a lot of hand manipulation, but it help shorten a lot the knitting time compare to the hand knit.

I used to have the machine out in the kitchen table when the girls weren't born yet, but due to limited space I have to take the machine down and now it's lying under my bed!

I knit a pretty intrasia sweater for my mother-in-law using Bond USM and she loved it. She passed away 5 years ago and I don't quite know what happen to the sweater.

Before deciding which machine you want to buy, you should do some researches. Don't make a decision right away. Read reviews, ask questions, or joint the machine knitting discussion groups. This will help you what knitting machine is the right one for you.

Good luck with your finding.

You can read more reviews about knitting machines at Amazon.com by clicking on link below.




Read Customer Reviews Of USM Knitting Machine Here
Very Helpful Knitting Machine Website Links

Every time when I find helpful resources and websites related to knitting machine, I will add them here. You're welcome to suggest any informative blogs or websites to add to this page.
Here are links to knitting machine sites:
I found this site to be very interesting and resourceful. The owner of this knitting machine museum website has been collecting knitting machines for over 20 years! She has just about every brand you can imagine (e.g. Brother, Passap, Toyota, Singer, Knitmaster). She talked about how each machine works and gave it a review. I think it'll be a great resource for a machine buyer to learn about each machine before buying one. It's a must visit site.
www.mkdesigner.com
Have hundred of links to machine and hand knit resources & more.
Do You Have Any Advise Or Comment Regarding Knitting Machines? Share it!
Tell us about your knitting machine. Love it or hate it?
What Other Visitors Have Said About Knitting Machines.
Click below to read about knitting machine contributions from other visitors to this page...

Ultimate Sweater Machine

Could not knit more than 6 stitches. It always jammed. Watched the DVD, checked everything over and over. Went on line and found other people had the …
Knitting Machine Problem - Carriage wheels locked on model 155 Kitmaster

Could anyone help as I am ignorant to Knitting machines? Both wheels on the carriage of my Knitmaster are locked so it will not slide along the bed. Is …
Leave Knitting Machines to Knitting Instructions Home Page

Go Machine Knitting Patterns Page


 Find this site helpful and want to help with donation? Please use Paypal button below.  Thank you for visiting!